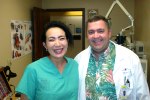 Dr. Suzie Nemmers, M.D.
Pediatric Ophthalmologist
Tripler Army Medical Center
As an Ophthalmologist myself, my eyes are very important to me. I have known and worked side by side with Dr. McMann for over 4 years since we first met at Fort Benning, Georgia in 2003.I have the utmost confidence in Dr. McMann's skill as a surgeon and attention to detail. When I decided to have refractive surgery myself, there was nobody else I would have do it besides Dr. McMann. Dr. McMann did a wonderful job and I'm very happy. We'll certainly miss him at Tripler.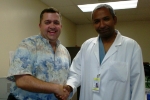 Dr. John Verghese, M.D.
Cardiothoracic Surgeon Tripler Army Medical Center
I have been wearing glasses for the last 15 years and desperately needed to get out of them. Dr. McMann performed LASIK surgery on my eyes and I have stopped wearing glasses. The feeling is great! Thank you, Dr. McMann!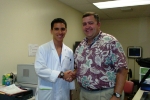 Dr. Daniel Morilla, M.D.
Urology Resident Tripler Army Medical Center
For a long time, I have been completely dependent on corrective lenses to include contact lenses and prescription glasses. When I elected to proceed with LASIK surgery, it was with a considerable degree of trepidation and caution as I am a surgeon in training myself and my eyes are my livelihood.After much research and background checking within the network of physicians in Oahu, I decided that Dr. McMann would be the best Ophthalmologist to operate on my eyes. I can honestly say that Dr. McMann was extremely competent and I felt totally comfortable throughout the pre-operative and post-operative course. My vision has never been better and I'm seeing things with vision that is far better than I ever expected. I would strongly recommend anyone to select Dr. McMann as your surgeon to take you through this extremely worthwhile procedure.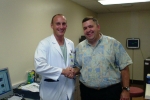 Captain Joseph M Dai III, M.D.
Resident Orthopedic Surgery Tripler Army Medical Center
As a resident in Orthopedic Surgery, my eyes are my livelihood. I had grown tired of wearing contacts. I had sustained a corneal abrasion one day after wearing them for too long and decided to explore surgery. Dr. McMann carefully went over my options for surgery, explaining the risks and benefits.We decided PRK was right for me. The surgery went very smoothly and the recovery period was shorter than I anticipated. Now, my vision is amazing! I never thought I would be able to see this clearly. I would recommend Dr. McMann to anyone who is thinking about corrective surgery. I have already encouraged several of my colleagues to visit him.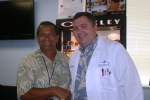 Mahalo Nui Loa,
Neil A. Bal
Fire Chief (Retired)
Maui CountyI would like to thank Dr.McMann and his staff for making my visit from Maui exceptional. They took me in as one of their own Ohana and shared their knowledge and experience to make my trip a pleasure.As a retired Fire Chief of 36 years, from Maui, my glasses have been part of my "turn outs" for over 20 years. I heard about you through the "coconut wireless", which as you know, has more effect than all the color ads you may place. I did visit your website and followed through with consultation and finally the surgery. All of my expectations have been met and the procedure was so fast and painless I don't know what all the "fuss" was about!